Consulting is a profitable business idea and great way to make extra money using your skills and experience. What kind of consultancy should you start?
Each consulting business type has its benefits.
These 30 top consulting business ideas will help you choose. Check out each option to see if any are right for you.
What exactly is consulting?
Consultants help clients solve their urgent business issues and it's a business ideas based on problem to solve. They can work in many industries and roles because they can analyze data and find the best path for each company.
Consultants typically have seven years of experience. They then offer this insight to other businesses.
Consultants may spend a few hours per week on multiple clients. They may be hired full-time for six months to solve a harder problem. The company and its problem determine everything.
Consultants solve client issues and move on.
Top 30 Consulting Business Ideas
1) Startup Consultant
Business startup consultants usually advise startups.
These consultants help with business idea selection, business plans, startup plans, financial projections, investor pitches, product definitions and plans, and marketing and sales strategies. That skill can take you anywhere.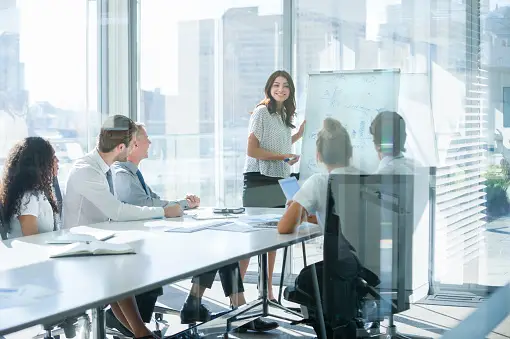 2) Management Consultant
Business management consultants offer objective, strategic advice to boost productivity.
Meeting with clients, researching and analyzing data, making recommendations, and scheduling improvements are typical. This is a fun, well-paid job.
3) Social Media Consultant
Social media consulting is new. An organization makes sure potential customers can access its website via social media.
4) PR Consultant
PR consultants help companies improve their image and reach.
Writing and pitching press releases, creating campaigns, working with media and influencer partners, arranging interviews, etc.
5) Business Plan Advisor
The DOET Business Planning Consultant manages the business planning process. The company helps startups create detailed business plans and streamline financing.
6) Trainer
They specialize in nutrition, sports, and personal training. Fitness programs are company-wide or individual. Offering clients an on-demand consultation app saves time and effort.
7) E-commerce Consultant
An eCommerce project requires many considerations. As an e-commerce consultant, you'll oversee your client's eCommerce venture.
8) Web Designer
Today's professionals and entrepreneurs need websites. Web designers will become more in demand.
9) Designer
Graphic design consultants design logos, brochures, letterheads, product package designs, and catalogs. Newcomers can enter a competitive market.
10) Social Media Consultant
Most people use Facebook, Twitter, LinkedIn, and Pinterest, and many companies pay for social media management. Social media consulting makes women entrepreneurs rich.
11) Sales Funnel Advisor
Online sellers aim to convert leads into sales. Sales funnel consultants strategize to sell more products.
12) Paid Ad Consultant

Online paid ad consultants offer PPC ads, paid search marketing, Facebook ads, retargeting, display advertising, and more.
13) eCommerce Consultant
Amazon, eBay, Gumtree, and Facebook marketplaces are available to buyers and sellers. Online marketing consultants help sellers sell on the right marketplaces.
14) IT Consultant
IT consultants check a company's technology and software to ensure productivity. This technical field requires computer skills. Consultants in this field should know computers and software.
15) Magento Consultant
Large companies prefer Magento's full-service online store builder. Magento powers online stores for large companies. If you know Magento store development, consider consulting.
16) E-commerce Consultant
An eCommerce project requires many considerations. As an e-commerce implementation consultant, you'll build your client's business.
17) Financial Advisor
This position identifies cuts to boost profits, protect, restructure, or maximize a company's bottom line. Most small businesses need a full-time finance department, so they hire a financial consultant. Consultation market software aids client management.
18) Payment Gateway Specialist
Payment gateways power successful eCommerce stores. Payment gateway consultants recommend and implement the best payment method for a project.
19) Career Counselor
Consultants assess client needs, prepare resumes, cover letters, and other documents, coach interviewing skills, help with job searches, and recommend training. Self-employment can be lucrative if you build a clientele.
20) Construction Manager
Construction management consulting is profitable with the right resources and knowledge. Startups need industry context.
21) Franchise Advisor
Franchise consultants usually handle both. Franchisees and entrepreneurs who want to buy a franchise.
Franchise consultants help prospective franchisees understand the industry and create a successful business plan.
22) HR Consulting
Human resource consulting has grown rapidly recently. HR professionals help businesses of all sizes with payroll, recruitment, compliance, and training.
Small and medium-sized businesses need more customized human resource consulting than large corporations.
23) Security Consultant
Security consultants decide how to protect computers, networks, software, data, and information systems from attacks. Security consulting is the most profitable consulting business with low startup costs.
24) Marketing Consultant
Consultants like marketing because it's broad. Marketing consultants can help with content and paid acquisition. Marketing/communication degrees or experience are enough.
25) Trainer
A training consultant plans a company's training and development needs. Work with managers, conduct job evaluation surveys, and interview all employees.
26) Legal Advisor
Many small businesses don't need a full-time associate, but most have in-house lawyers or contract law firms. Business law graduates ensure their clients follow all business laws.
27) College Guidance
Thousands of students worldwide want to attend top colleges. If you get along with college officials, college counseling can be lucrative.
28) Investment Planner
Investment consultants help clients maximize savings by advising and strategizing investment portfolios.
29) App development/management Consultant
Computer and mobile apps are multiplying. App developers and consultants will be in demand soon.
30) Computer Maintenance Consultant
Most homes and offices have computers now. Thus, machine maintenance becomes crucial. Computer maintenance consultants keep client computers running smoothly.
Bottom Line
Business ideas are here. These 33 consulting business ideas will inspire and guide your startup. Why wait? Explore these great business opportunities today!